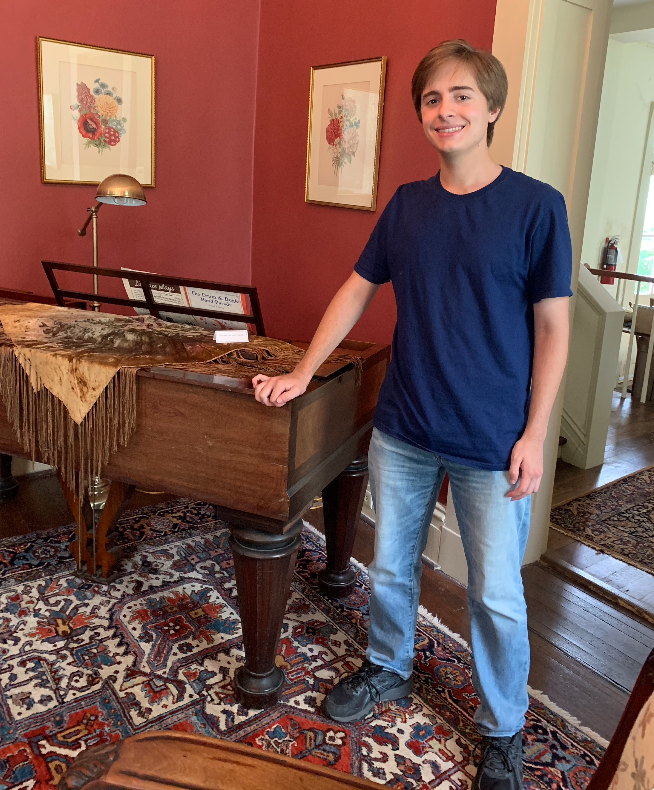 Meet Clayton Caringer, a 2021 graduate of Kirkwood High School and the youngest Docent at Mudd's Grove. We recently sat down with Clayton in the Hearth Room at Mudd's Grove to talk about his passion for Kirkwood and its history.
The first thing Clayton Caringer wants you to know about Mudd's Grove and the 501(c)(3) nonprofit Kirkwood Historical Society is that neither are governed or owned by the city of Kirkwood, Missouri. Clayton shared that this is the most common misperception he hears about the house and nonprofit. We will comment more about why that matters, but first, let's meet Clayton.
Clayton's family moved to Kirkwood when he was ten years old. He clearly remembers that even at this tender age, he was aware that Kirkwood was unique with its big trees, historic architecture and vibrant downtown. As he grew older, he developed an interest in maps, architecture and genealogy. The three passions complemented each other and became the basis of many articles he has written for the Kirkwood High School student paper, The Kirkwood Call. Click here to read his published articles.
We often find Clayton at the Mudd's Grove library looking for old maps, researching his favorite Kirkwood homes and studying the stories of the families who lived in them. Our library is the sole collection of Kirkwood documents and artifacts which is why he believes preserving Mudd's Grove matters. He wants the library, the museum quality rooms and the gardens of Mudd's Grove to be available for future historians like him.
Clayton will be serving as a Docent at the 2021 House & Garden Tour at Mudd's Grove, June 12th, from 10 AM to 4 PM. If you see him, ask him about his favorite piece of furniture in the house, why he respects the handiwork of the artisans who built Mudd's Grove and his chosen major at Truman State University. We think you'll be surprised at his answers!